It's that time of the year again, when Love Actually graces our screens for the Christmas season. 
This anthology-style film has become a seasonal staple since it was released in 2004, making it 17 years old and almost of drinking age!  Can you believe it?  Watching it today feels no different to watching it over a decade and a half ago, which shows some serious forward-thinking by writer and director Richard Curtis.  The timelessness of this movie has definitely contributed to its status as a classic Christmas film.  
Love Actually shows us a snapshot of many interconnected love stories in the five weeks leading up to Christmas, with an ensemble cast of characters tied by blood, friendship or profession.  The film shows us their heartbreak, first love butterflies, failing marriages, quests for romance and even a pop star's efforts to get to number one in the Christmas pop charts.
This title features some big names from Hugh Grant to Keira Knightley so it goes without saying that the casting was epic.  Who better to play the dancing British Prime Minister than Hugh Grant?  Who could break Emma Thompson's heart quite like Alan Rickman?  And who could thread it all together with comedic standalone appearances better than Rowan Atkinson?
Performances from any of these big names, unsurprisingly, cannot be faulted but even lesser known actors like Lúcia Moniz and Olivia Olsen were cast superbly.  Frankly, I believed them all, every step of the way.
Even the most professional of actors can do little with a subpar script, but fortunately that wasn't a problem here. The screenplay is excellent, perhaps owed to the fact that the writer and editor are a married couple, Richard Curtis and Emma Freud.  Maybe their relationship is the secret sauce for the charming tails that unfold in Love Actually.
The pair present us with a number of different dynamics and aspects of love; we see puppy love, infidelity, bereavement, power struggles, friendship conquering all, first dates and grand marriage proposals.
We get to watch a young grieving Thomas Brodie-Sangster fall in love for the first time; we see Laura Linney choose familial love over a whirlwind office romance and we even see Bill Nighy in a platonic love affair with his manager, highlighting that there are many kinds of love, not all of which go from first kisses to divorce do us part.
Personally, this is my favourite thing about Love Actually; it beautifully highlights the importance of all relationships, and not just the romantic ones rom-coms tell us are the holy grail of happiness. 
However, it must be said that, although this film does an excellent job showcasing different types of relationships, it doesn't do much for diversity in terms of character.

Even just by looking at the cover of the DVD case, we see ten familiar faces, all of whom are white.  Of these characters, they are 100% heterosexual and ablebodied.  The worst part of this oversight is that the film saw and overlooked two major opportunities to include more diversity. 
The first is Laura Linney's storyline, which elicited very passionate responses from viewers.  Her character, Sarah, has a brother who is in a care facility for some nondescript mental illness.  
There was a real opportunity here to show the struggles of someone mentally unwell, but instead Sarah's brother Michael only served as a plot device to interfere with the budding office romance between Sarah and Karl.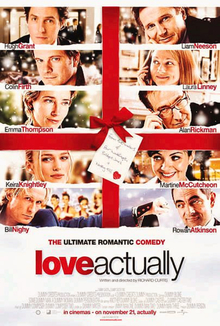 I understand that ultimately this is a lighthearted lovey-dovey Christmas film and perhaps getting into mental illness is just a step too heavy for the writer.  But in neglecting to tell more of Michael's story, and showing him only as a nuisance to his sister, Curtis does a disservice to those who struggle with mental health issues.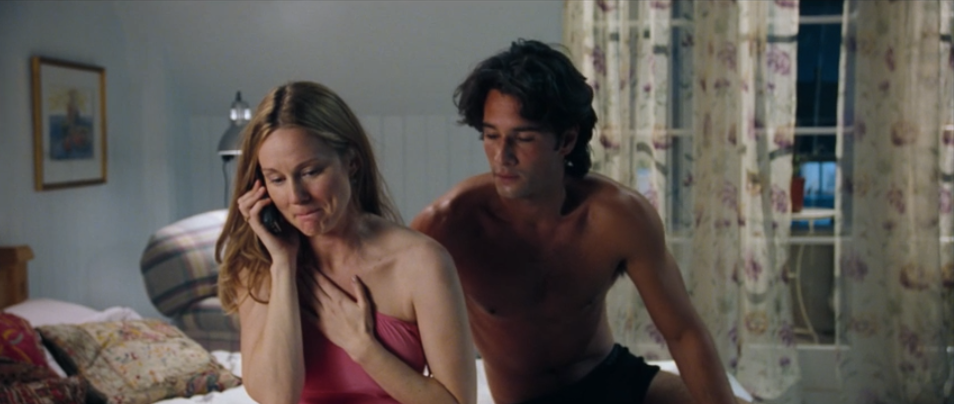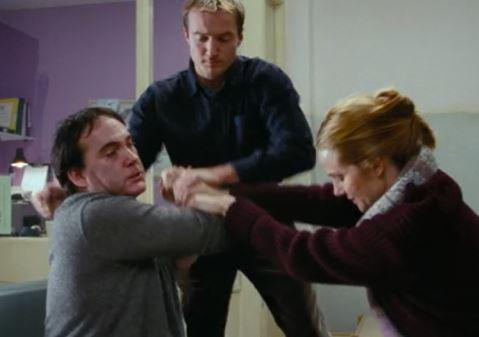 The second missed opportunity concerns a storyline which was not only scripted and shot but also cut out of the film.  
In short, Emma Thompson and Alan Rickman have children; these children perform a nativity play in their school in the final act of the film when all the storylines come together.  The headmistress of that school, played by Coronation Street's Anne Reid, had a storyline all of her own, featuring her and Frances de la Tour, her dying partner.  The fact that this same-sex storyline was filmed, edited and then cut out of the film is a very questionable choice.  
The film is just over two hours long and there's 17 and a half minutes of deleted scenes.  Not everything can stay, I know that.  But knowing that the only LGTB+ partnership was removed while one character's quest to find 'hot babes' in America (who, by the way, are little more than sex robots) was left in really pushes me to question the values of this film.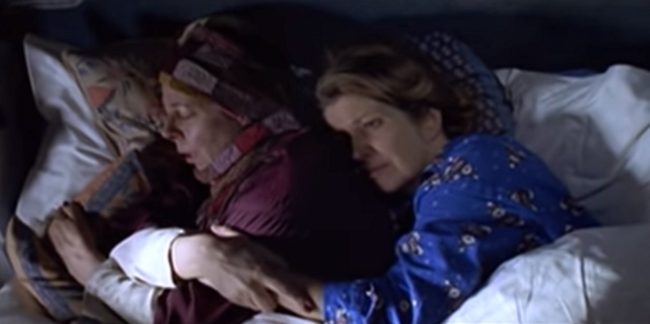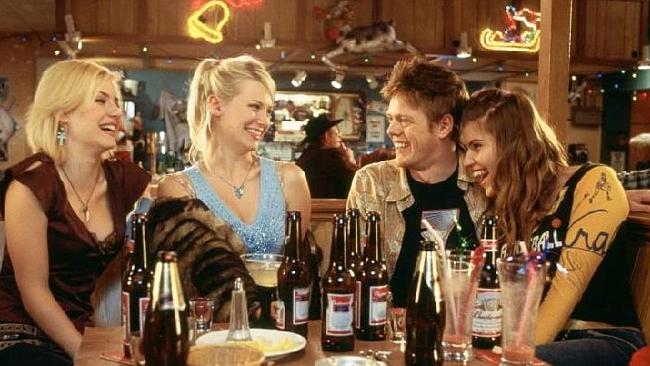 While I do take issue with some of the editorial choices in terms of content, I must confess that otherwise the editing is very clean and leads to a perfect plot flow.  The film is funny, sweet, and ultimately any misgivings are largely forgivable because of Love Actually's general charm.

Despite some clunky content choices, a confusing Claudia Schiffer cameo and one stalkery storyline that culminates in a weirdly beloved grand romantic gesture, I'll undoubtedly spend one winter night with the cast of Love Actually every Christmas season for the foreseeable future… and I suspect you will too.